Therapy and mental health apps offer a lot of value via structured therapy exercises, resources, precise instructions, connections with experts, and a community. Here are the best apps for android and iPhone users with their specific use cases.
E-mental health and app-based therapy is trending for a few years now. Many smartphone apps are useful in improving mental health (and reducing symptoms) as a DIY approach and a supplement to in-person psychotherapy and psychiatry. But many apps are yet to have a clear "efficacy profile" which indicates how well they work, when they work, and what their primary uses are. Still, most are based on sound theoretical foundations.
Why apps?
They are generally more "empowering" through the DIY approach.
They are cost-effective.
They offer a sense of control, ownership, and belonging.
It's easier to know what you are getting into before committing a lot of time and money, a.k.a, they reduce uncertainty.
They are better at avoiding the cyberchondria trap because you commit to a curated resource vouched by many people and experts. So you might have fewer impulses to google every symptom, which is likely after you do in-person sessions and don't trust the therapist's evaluations.
How I've made this list: I spent 20 hours toying around with these apps with the goal of understanding their UI/UX, content quality, onboarding, personalization, and usefulness. I emulated possible mental health issues like anxiety + sleep problems, tired and depressed, low confidence, etc., and sought therapy from the app as if I am in therapy. Then asked a bunch of users who use these apps to describe their general experience. I then recruited a psychologically informed helper to do a thorough "experience check" to see if she finds them useful and can validate many others' thoughts about these apps. After that, we selected the top 10. This is not a ranked list, just a collection of diverse apps that I think do their intended job best. Pick any from the list, they're all good enough with excellent onboarding, content, and instructions.
I give all of these a minimum of 7/10 for content, UI/UX, customization, instructions, guides, problems, usefulness, evidence-base, and onboarding.
Summary
| | App | Highlights |
| --- | --- | --- |
| 1 | Calm | Meditate, relax |
| 2 | Sanvello | Heavy content, community |
| 3 | Thinkright.me | Meditation, yoga |
| 4 | Better help | Connect client to therapist |
| 5 | Wysa | Chatbot |
| 6 | 7 cups | Community support |
| 7 | Youper | CBT, exercises |
| 8 | Amaha (InnerHour) Self care | Content, courses, community, therapist connections |
| 9 | Woebot | Chatbot |
| 10 | Symptoms and mood tracker by bearable | Monitor habits, track health, good analytics |
| 11 | Digital wellbeing (android & IOS in-built) | Monitor phone use and related emotions, productivity |
Tip: Here's how you can tell if you need some help. These signs of deteriorating mental health are non-clinical and only suggest you could use some extra help.
1. Calm – Sleep, Meditate, Relax
Description: Calm is a mindfulness app for sleep, meditation, and relaxation. Its objective is to help users manage stress, improve their sleep, balance their moods and refocus their attention. Its library has a collection of meditation tracks, breathing exercises, sleep stories, music, and calm masterclasses.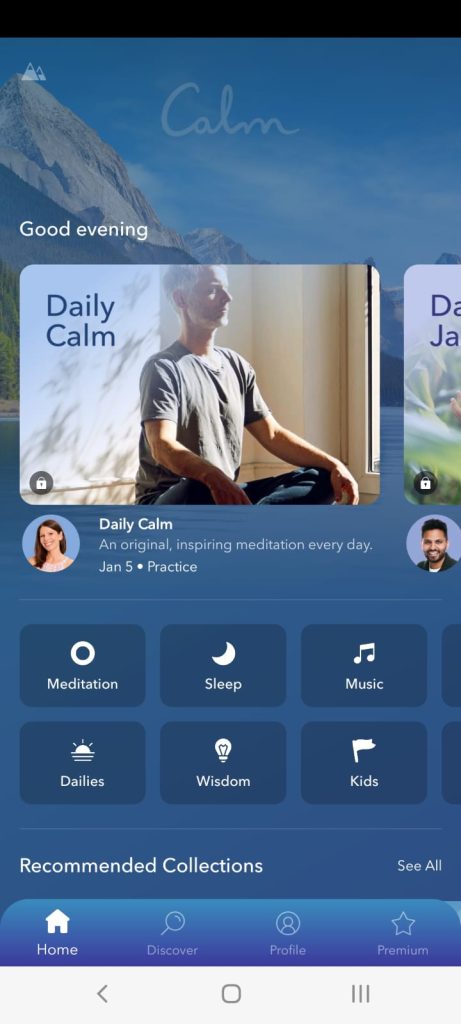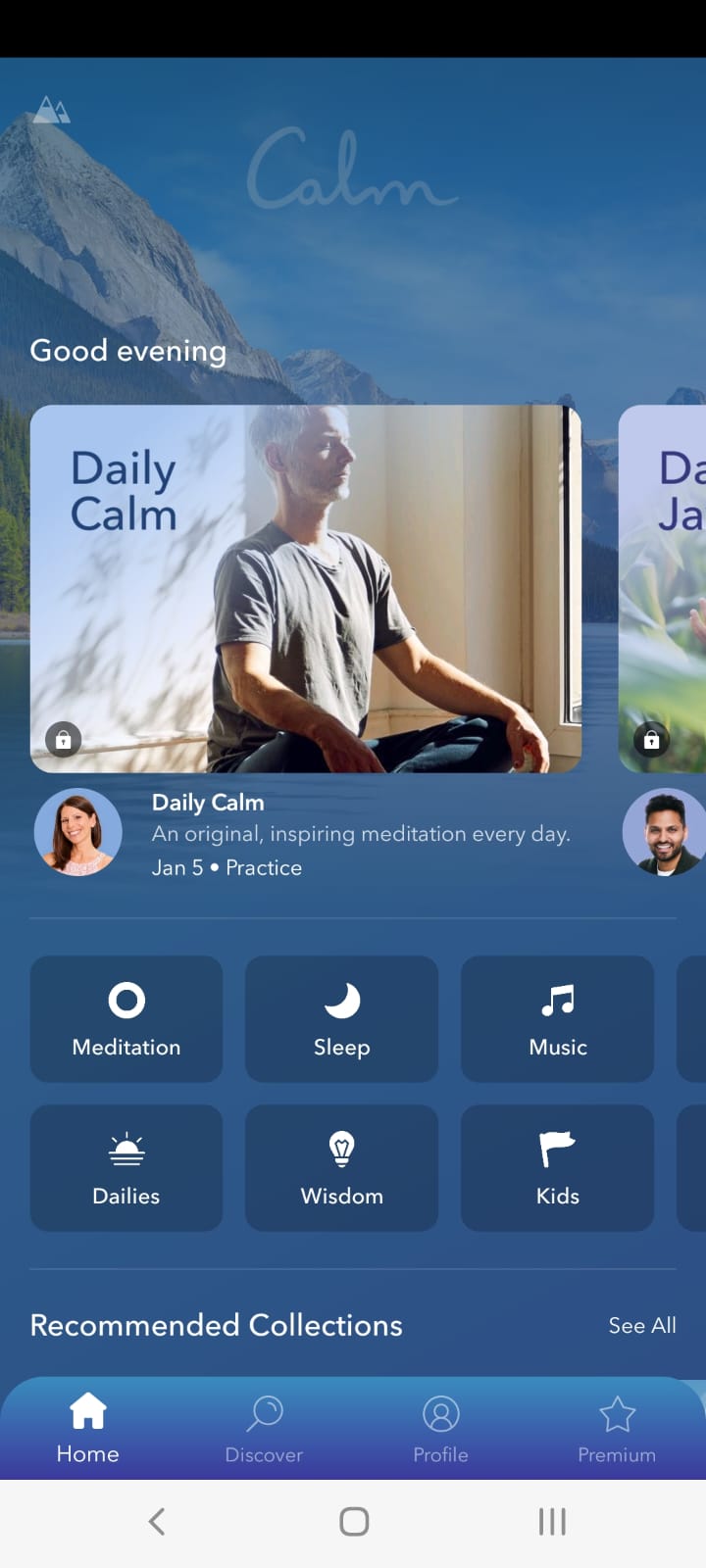 Downloads: 10 M+
Rating: 4.3 (498K reviews)
Pros:
Free content is limited but has excellent tutorials, visualizations, and guidelines for relaxation.
Paid content is great and has effective results
The app's user interface is good
Offers a range of listening tracks for meditations covering anxiety, focus, stress to sleep stories and sleep music, masterclasses on self-help, personal growth, exercising, etc.
The check-in tab allows users to ensure that they journal their moods, gratitude entries, mindfulness reflections, and sleep quality on a daily basis.
The app has excellent content for kids.
Cons:
Most content is only accessible in the premium version of the app. The free version of the app has very limited features.
Tracks can feel short for long meditative attempts.
There is no way to edit an earlier journal entry (which is by design, to help you track changes in memory and interpretation).
Use case: reduce anxiety, reduce stress, sleep better, meditate, exercise, check in daily emotions, develop gratitude, increase happiness, improve focus, and build self-esteem.
Cost: The app has a free version and a paid version costing $14.99 per month or $69.99 per year.
2. Sanvello: Anxiety & Depression
Description: Sanvello helps people struggling with stress, anxiety and depression using mindfulness and cognitive behavioral therapy skills. The app uses journals, courses, and guided meditations to help users learn and practice useful CBT skills. The app also facilitates discussion groups and chat groups to let users share their journeys with each other.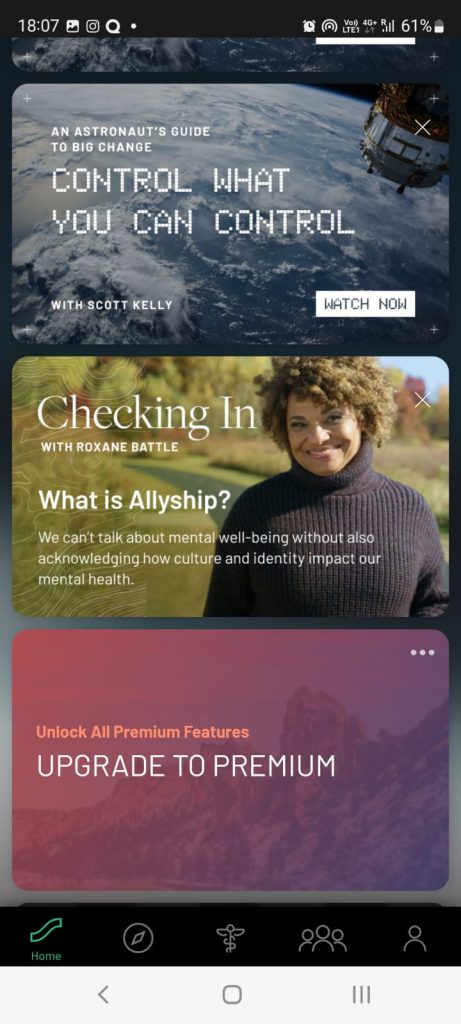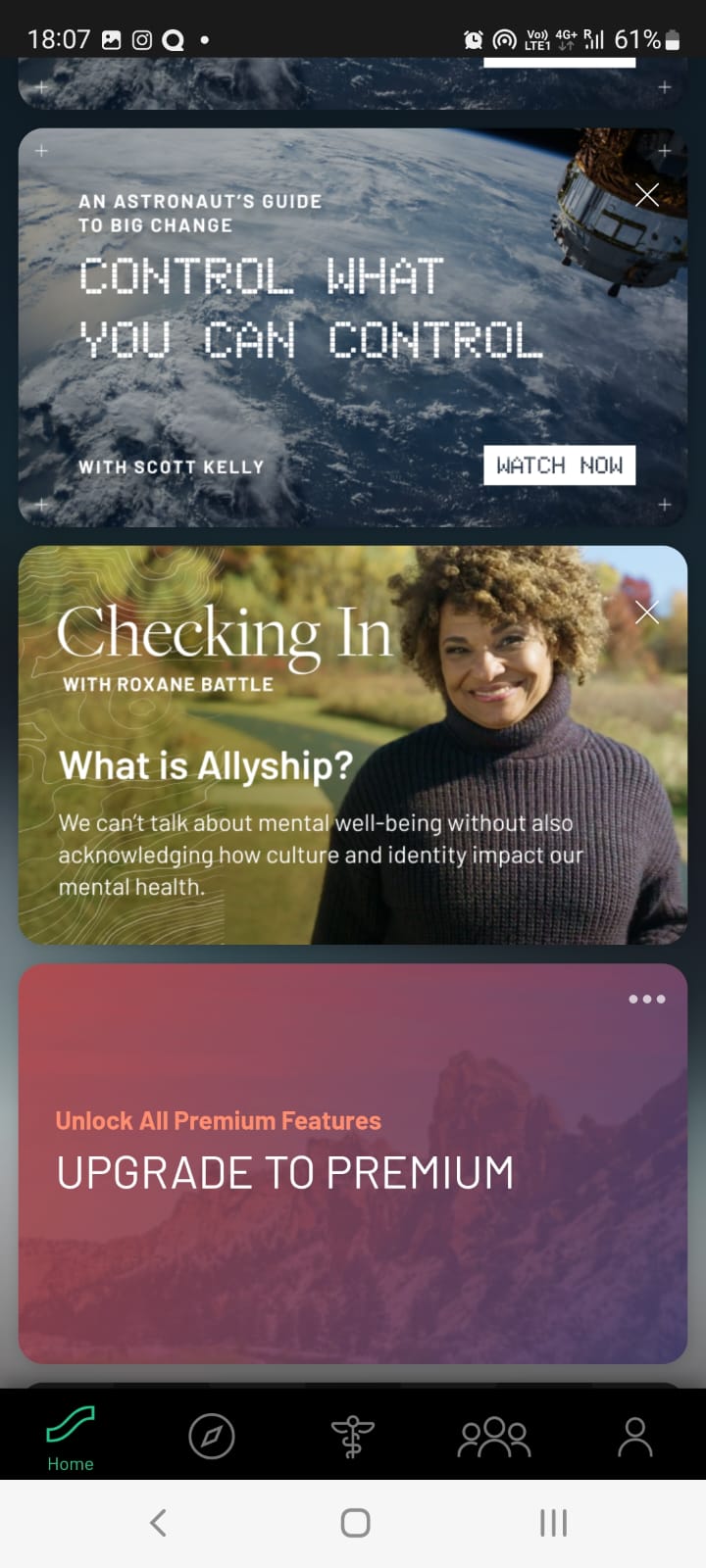 Downloads: 1M+
Rating: 4.3 (23K reviews)
Pros:
The free version contains an insane amount of content and tools. The content is simplistic and engaging. From identifying thought traps to monitoring physical activity, the app offers every tool to look after yourself.
Fosters a sense of community through chats and groups.
Allows users to select up to three goals upon opening the app.
Checks in on users' mental health on a daily basis by prompting them to answer an extensive questionnaire and suggests automated therapy chatbots and listening tracks based on the assessment result.
Cons:
Few features are restricted to the paid version of the app.
The amount of content might be too much to navigate through, and using too many tools can clutter your healing approach.
Use case: feel happier, decrease anxiety, build confidence, think positively, practice meditation, improve social skills, live healthier, find hope, set up reminders,
Cost: The app has a free version and premium subscriptions that range from $8.99 to $50
3. Thinkright.me: Meditate Daily
Description: Thinkright.me is a daily tool for practicing mindfulness. Its extensive library is a collection of goal-based guided meditations and courses, yoga, mini-breaks, a guided emotional journal, and a special section for kids with mindfulness, fitness, and fun.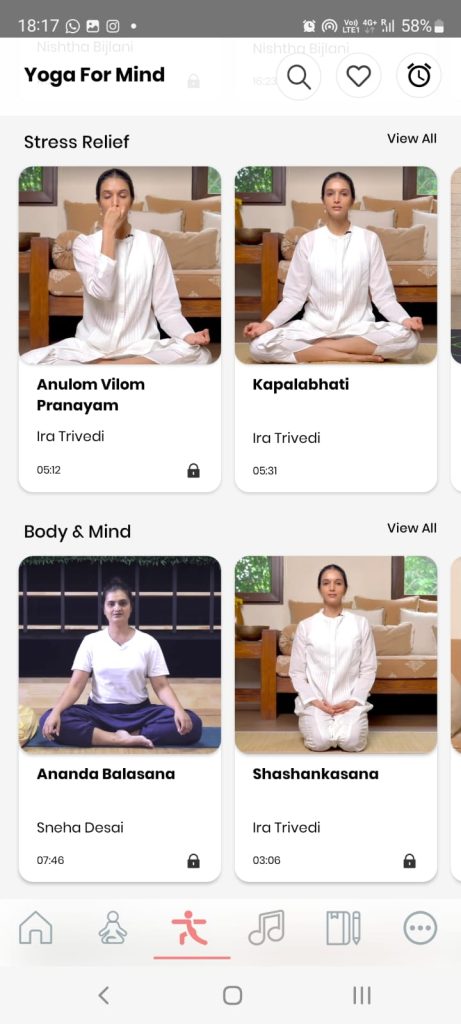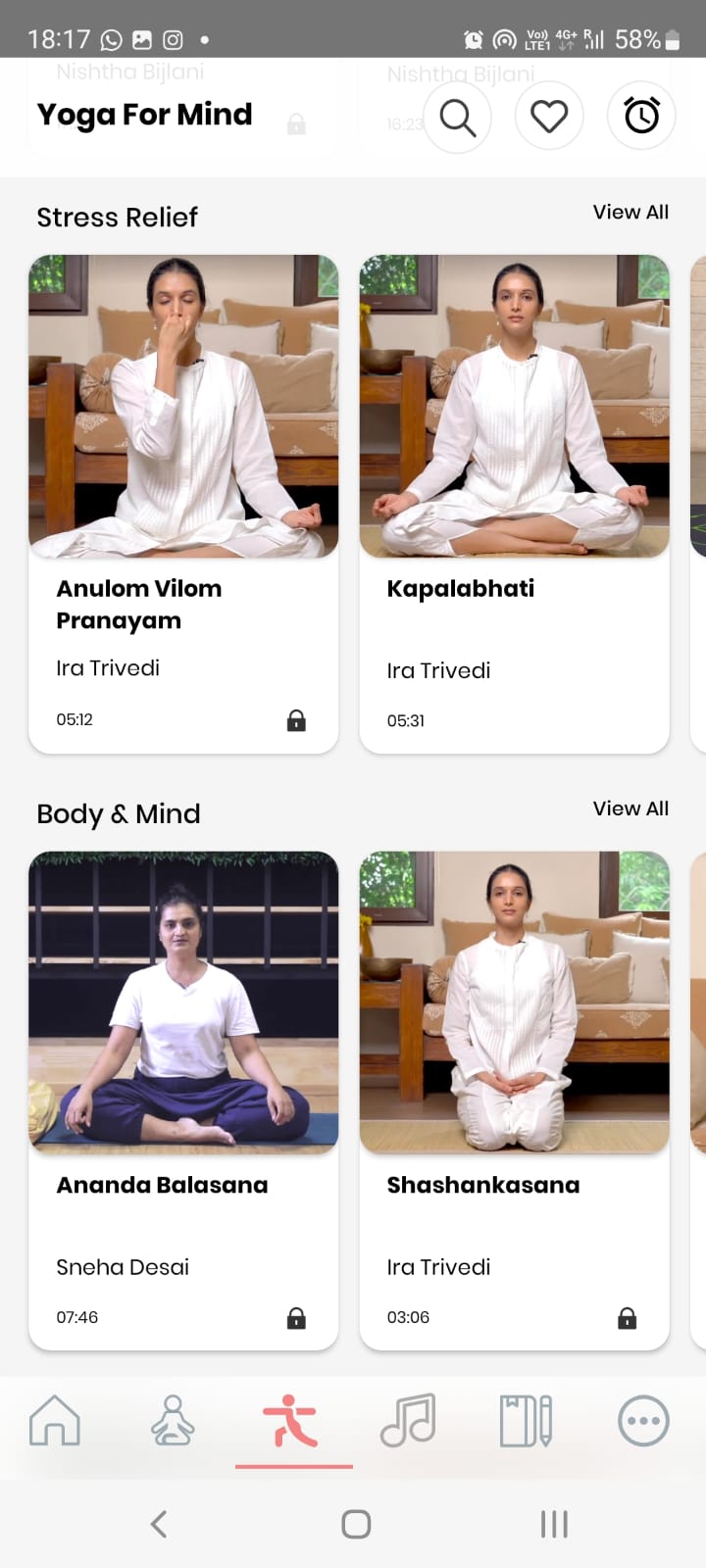 Downloads: 1M+
Rating: 4.7 (16K reviews)
Pros:
Contains an extensive library of meditation and yoga tracks for different goals.
Allows you to select multiple goals upon login and creates a personalized library accordingly.
Cons:
Some users report that the app stops in the middle of a track defeating the purpose of meditation.
Most content can only be accessed upon subscription, but the limited free content is enough to begin a yoga and journaling journey.
Content is limited to meditation and yoga only.
Some video demonstration content is not in English; some is in Hindi. There is no language selection option.
Use case: Learn meditation with experts, sleep better, relationship tips, relieve stress, strength training, develop focus, personal growth, overcome depression, work from home tips, self-healing, breathwork, emotional journal, TRM for kids, live yoga, and meditation sessions.
Cost: Free, and a paid version is available at a subscription of Rs. 499/ year.
4. Betterhelp (Therapy)
Description: Betterhelp is a platform to connect users with mental health professionals with a high control over your needs and preferences. The therapists are trained, experienced and accredited, and offer a wide range of services from depression therapy and anxiety to family and couples therapy. The app provides live chat, live call, and live video call sessions with the therapist, as well as the option of group therapy and journaling.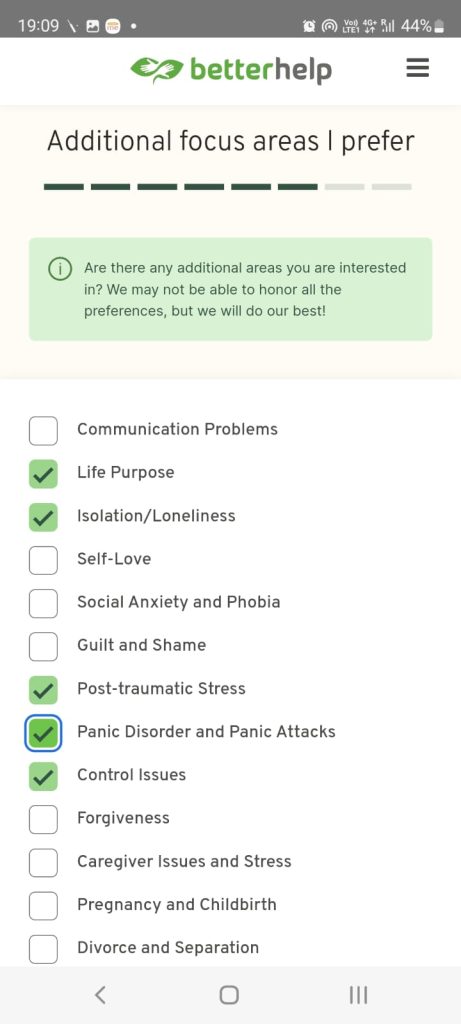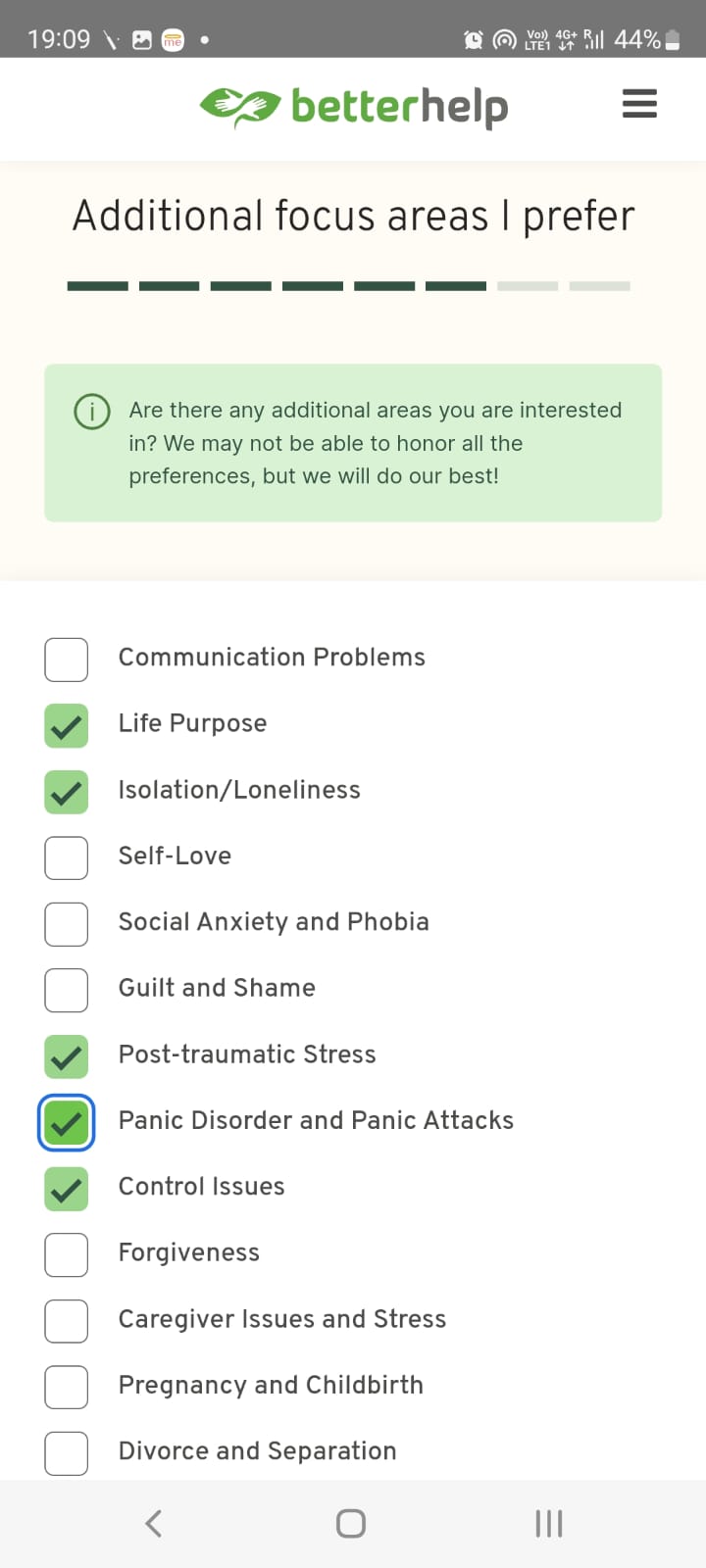 Downloads: 1M+
Rating: 3.0 (33K reviews)
Pros:
The quality of therapists is good. They are adequately qualified and trained. Users report a positive and fruitful experience with their therapists.
Let's you choose therapy as an individual, couple, or for your child.
Unlike traditional therapy, it provides users with the convenience of texting their therapists anytime.
The smart matching technology ensures that the users match with therapists that are best suited to their needs.
It has no geographical barrier in matching therapists, plus it allows you to switch to a different therapist at any time.
It allows you to control certain characteristics you might want in your therapist, such as gender, including LGBTQ+, religion, etc.
For some countries like the U.S. and Canada, therapy via the app can be cheaper than an in-person therapist who can cost 200$ a session and have a long waitlist.
Offers financial aid if you can't pay for therapy.
Cons:
Some users report that the UI of the app is outdated, making it sluggish at times.
No in-office therapy. Therapy sessions can only be via text, chat, phone or video.
For those Asian countries like India, it can be more expensive than an in-person therapist, who is typically available within the week at under Rs. 1500/- per session (20$).
Use case: find the right therapist, individual therapy, couples therapy, teen therapy.
Cost: $65 a week.
5. Wysa (Anxiety therapy chatbot)
Description: Wysa is a well-being tracker that tracks your mood and provides extensive services via a chatbot and tracks like mindfulness, meditation, Cognitive Behavioral Therapy, and meditation. It can be used to build a personalized toolkit with tools for coping with depression, anxiety, sleep issues, and grief. It also allows you to book therapy bundles via the app.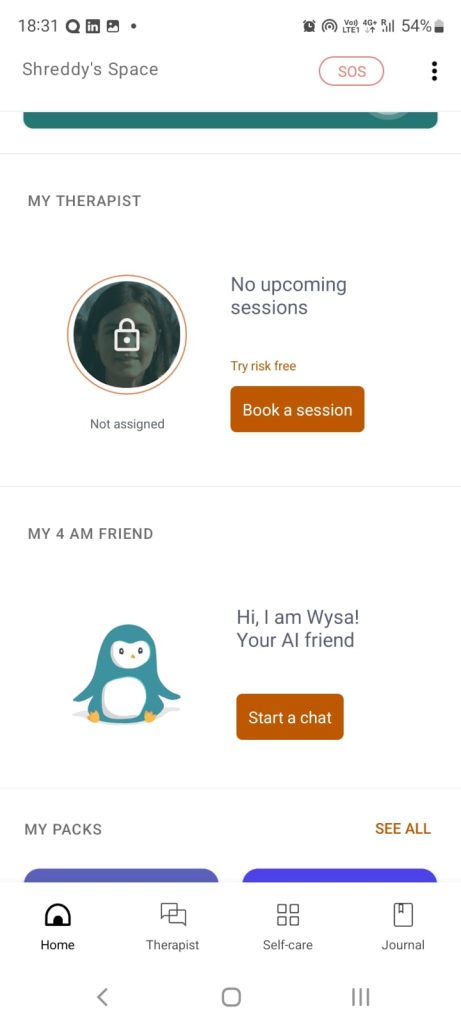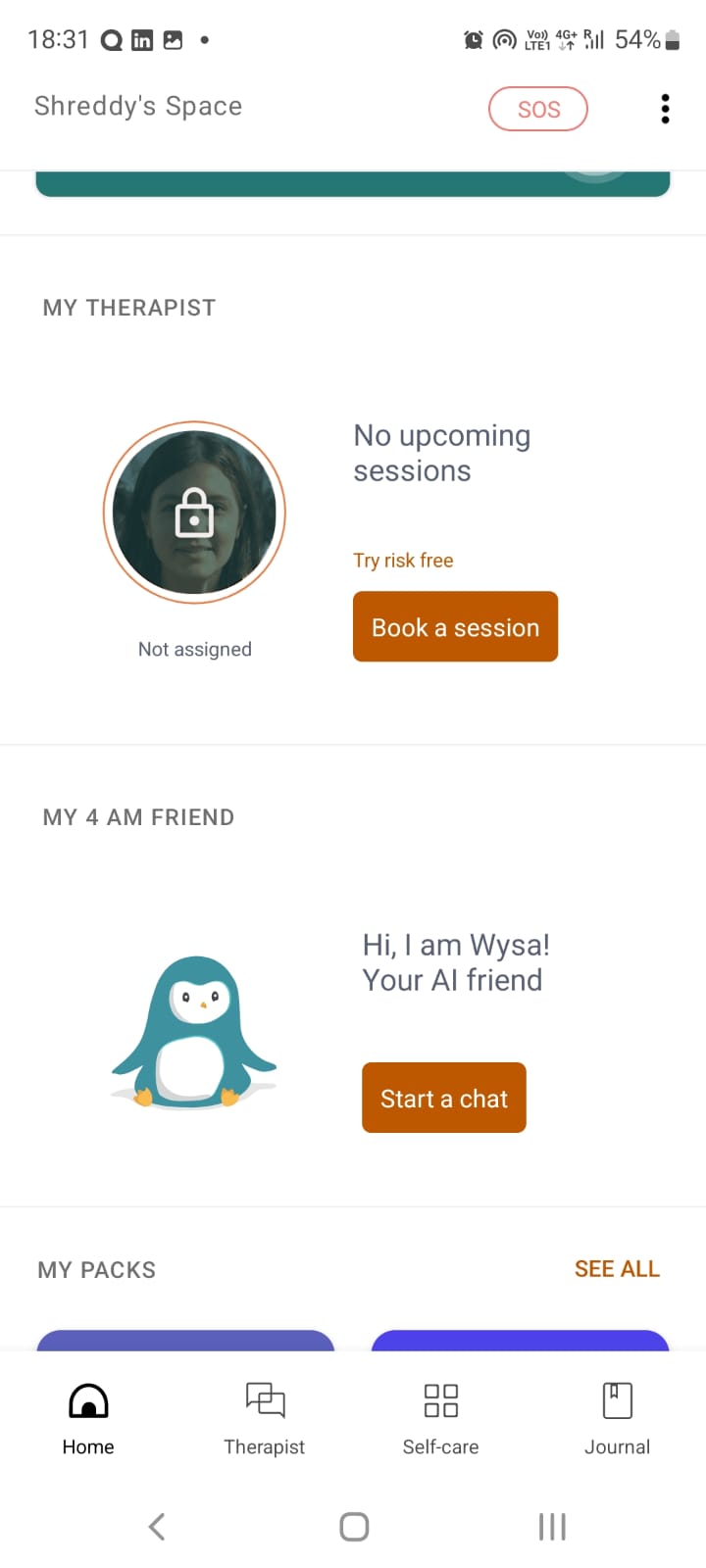 Downloads: 1M+
Rating: 4.5 (124K reviews)
Pros:
User-friendly, easy to navigate, and has a wide range of learning modules from depression or stress to pregnancy
Users can sign up anonymously, the meditation and other tracks are small and easy to complete.
Allows you to work on multiple challenges such as anxiety, depression, health issues, etc., with the app's help.
The chatbot is a more efficient way to ensure daily check-in on mood and health than reminders that ask you to journal your mood in other apps.
By allowing users access to a chatbot 24*7, it makes a very good companion for people in their hard times, particularly for those with anxiety who may need quick responses from someone to feel reassured or heard.
It allows users to opt for therapy as well with its team of therapists. Using both AI and therapists can be a very good combination to nudge people into therapy and provide them with all-round support.
Cons:
Chatbots can be repetitive and inefficient at times, and might also interpret words used by users incorrectly. It does not have the functionality of texting with a human counselor.
Although it offers meditation tracks, it lacks gamification and activities that keep people engaged.
Use case: reduce anxiety, overcome depression, sleep better, build confidence, find motivation, manage work stress, manage exam stress, handle loss, pregnancy issues, LGBTQ+ therapy, overcome low energy, build self-esteem, overcome loneliness, overcome trauma, manage health issues, develop mindfulness, increase productivity.
Cost: The app has a free version as well as a paid version starting at $ 68.99 per year.
6. 7 cups (Therapy and listener support)
Description: 7 cups offers instant help to stressed users who can use the app to talk to trained active listeners anonymously. The app also has the functionality of connecting users to professional therapists. 7 cups is primarily a community support forum, so if you aren't into posting on Reddit or Whatsapp groups and want a safer space, 7 cups might work better for you.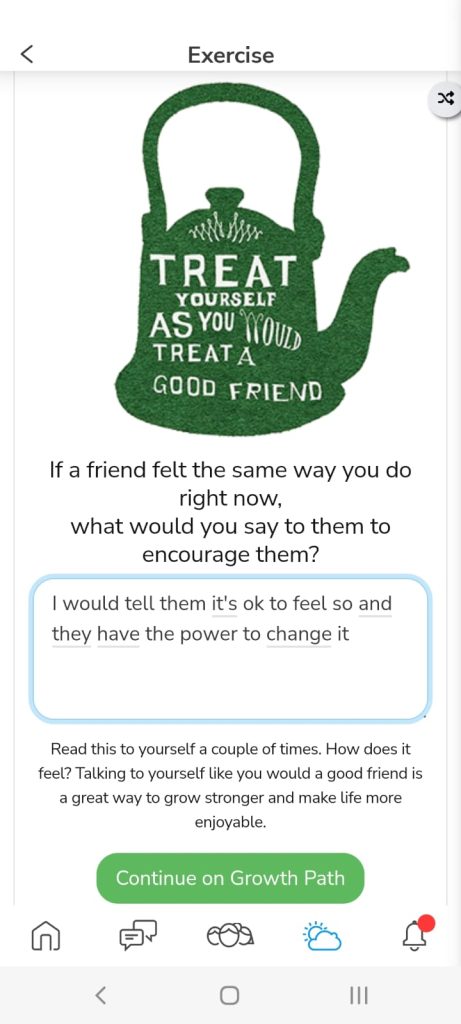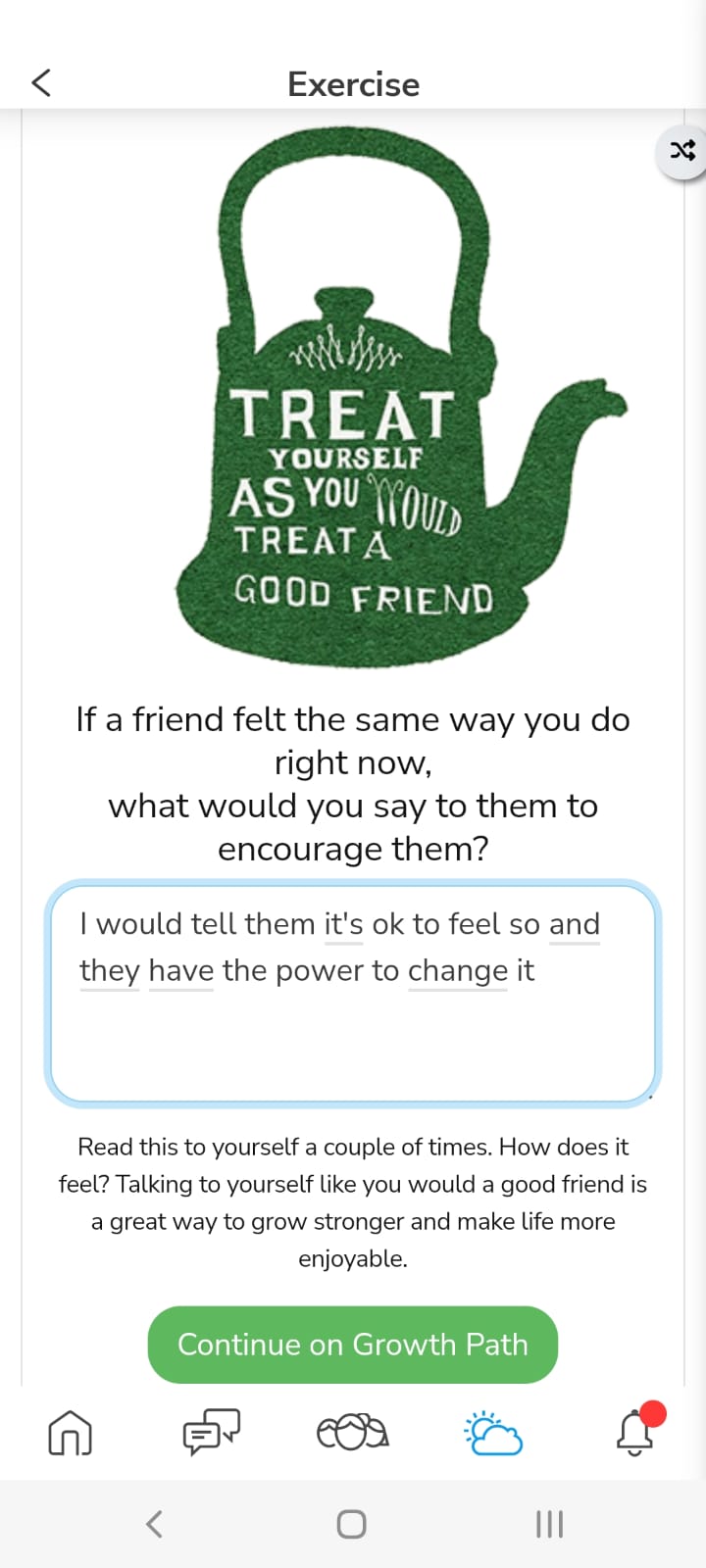 Downloads: 1M+
Rating: 4.2 (23K reviews)
Pros:
The listener and member concept is one of a kind and can offer great results for some people.
The growth paths are tailored according to one's goals and needs.
Offers a helpful free-chat chatbot (Noni).
Lets you take new perspectives by acting as if you are helping others and actually trying to help others.
Cons:
User interface is not very friendly. Some users also report that the app has a slow UI prone to technical glitches.
The quality of the listener varies. While some of them might be very helpful, others may be dismissive.
Use case: Exercising tips, community support, chat with a listener, overcome depression, overcome alcohol/drug abuse, overcome eating disorder, develop forgiveness, overcome loneliness, find relatable people, manage emotions, work on self-esteem issues, deal with breakups/ relationships/ family stress, decrease anxiety, ADHD management.
Cost: The app has a free version as well as a paid version that offers online therapy with the help of therapists.
7. Youper: Self-guided Therapy
Description: Youper is dedicated to making mental health care accessible for everyone. Its low-cost, always-available support provides a range of services to users from Youper chatbot, a mental health coach, a therapist to medical doctors. Youper also has a library of listening tracks, CBT exercises, SOS activities, and other exercises for mental health improvement.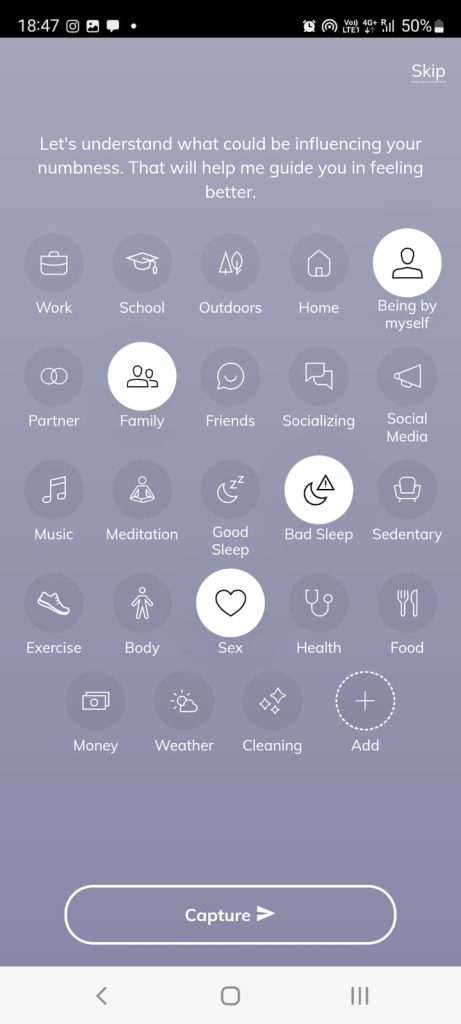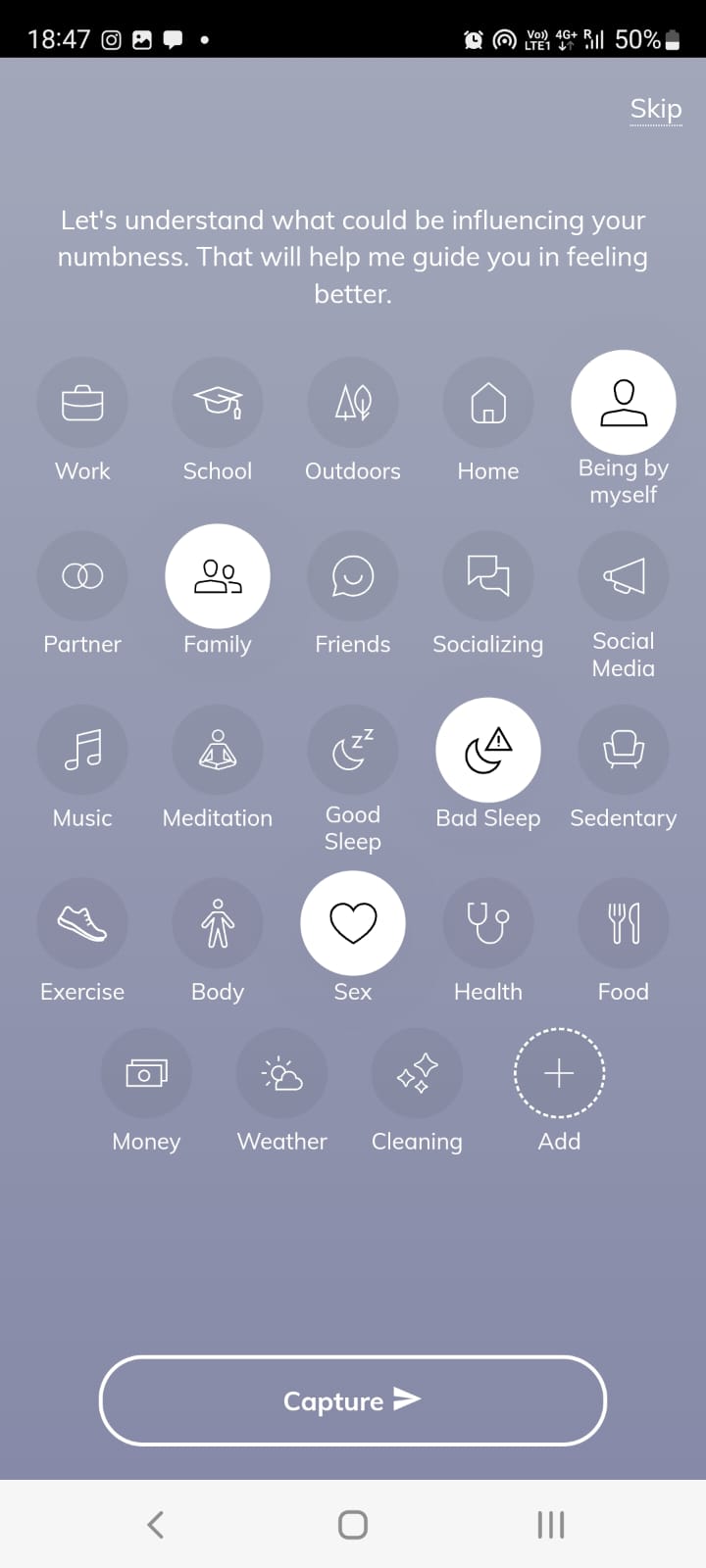 Downloads: 1M+
Rating: 4.4 (48K reviews)
Pros:
Treatment plans are based on formalized techniques.
Allows you to work on multiple problems at the same time.
Has a range of services and offers a variety of activities to choose from- from daily mood check-in, monitoring of mental health symptoms, anxiety, mindfulness, personal growth, issue-specific problems, monitoring one's health data, choosing CBT exercises, and choosing a suitable therapy track.
Offers SOS services.
Cons:
Cluttered user interface since updates and the app is really slow to navigate.
Its patterns of help can be repetitive for some users.
Most features are restricted to the paid version.
Use case: overcome depression, reduce anxiety, overcome social anxiety, sleep better, stress less, increase productivity, discover your personality, track mood, monitor symptoms of bad emotional health, build mindfulness, practice gratitude.
Cost: The app has a paid version that starts at $69.99 a year with limited free therapy activities.
8. Name: Amaha (InnerHour) Self care
Description: Amaha (formerly Innerhour) Self-care is a tech-led omnichannel mental health platform aiming to solve the 95% treatment gap in mental health in India. The app offers a range of services and features to support individuals with their psychological needs. It is run by a team of healthcare and technology professionals and offers services like self-care plans, therapy, and psychiatry, and has a community for supporting each other.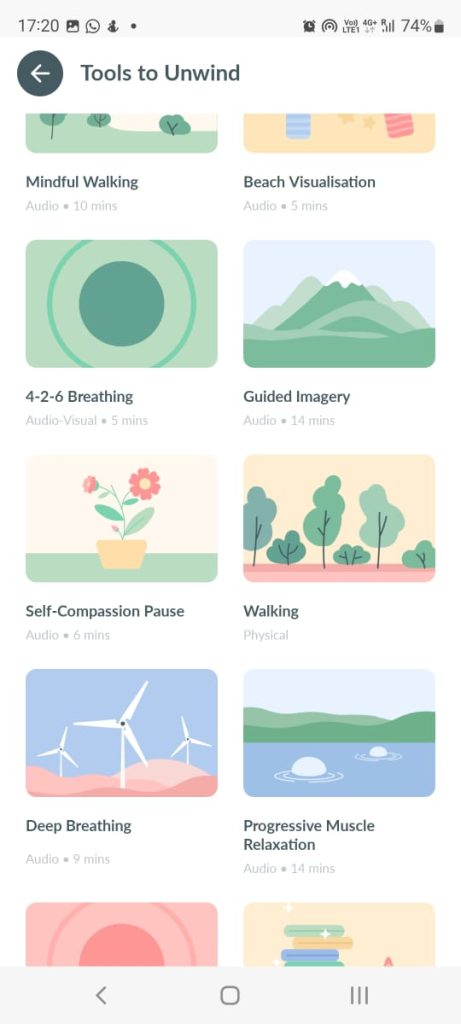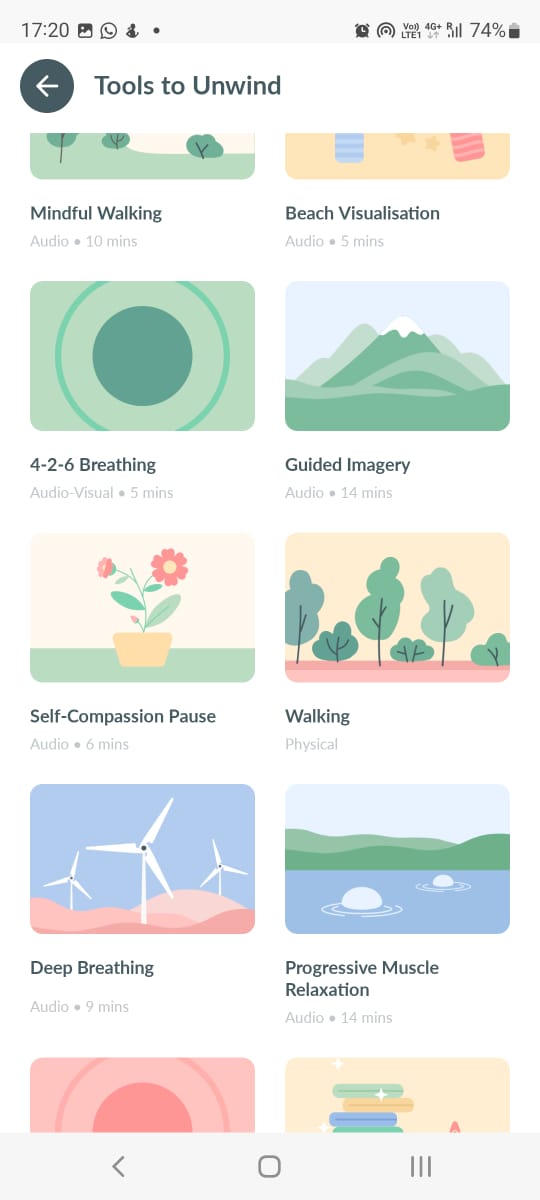 Downloads: 1M+
Rating: 4.4 (24K reviews)
Pros:
User interface is great. Allows you to create multiple personalized plans for different issues.
Has an extensive library of expert content, short courses, and insights, and an Amaha community for support.
Has a network of therapists and psychiatrists to provide users with therapy.
Mental health assessments are comprehensive and brief at the same time.
The chatbot Ellie offers quick assistance and is efficient at helping users deal with negative emotions.
Cons:
Therapists and psychiatrists can only be booked by paying an additional fee per session. There is no package for availing them along with the app.
Users can only choose questions to ask the chatbot Ellie and cannot type questions that limit the range of Ellie's help.
Use case: therapy, psychiatry support, affirmations, mental health care, self-help, overcome depression, tackle stress, manage anger, decrease anxiety, sleep better, live happier, health assessment.
Cost: The app has a free version, free trial, and a paid version which starts from Rs. 99 per month.
9. Woebot (your self-care expert)
Description: Woebot is an automated conversational agent that helps you monitor your mood and learn about yourself. Woebot is based on Cognitive Behavioral Therapy best practices. It replicates daily brief conversations with users to assess their mood. The chatbot does a forced-choice survey to understand your negative thoughts, mood, sleep, emotional control, energy, focus, etc. The app offers forced-choice responses to guide you into a conversation that educates you and empathizes, which is both a pro and a con because you can't steer the conversation exactly how you wanted to, but then it helps you stick to a goal.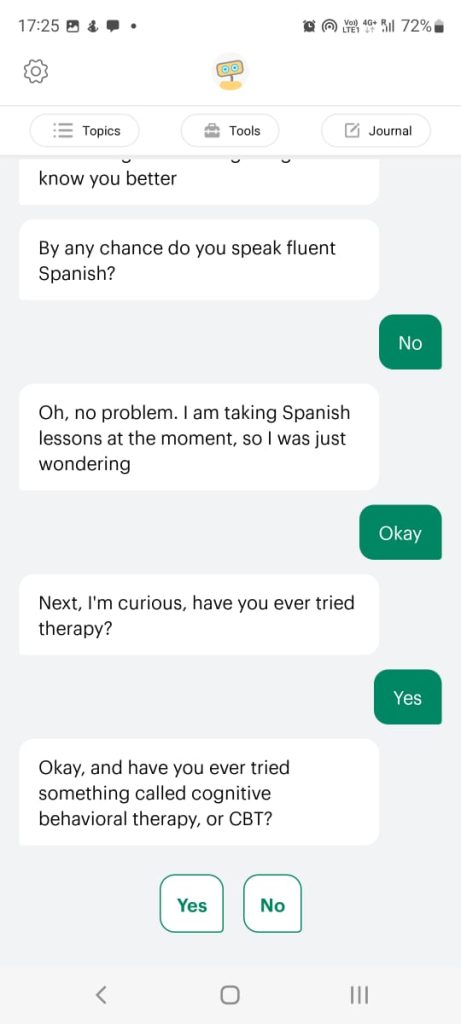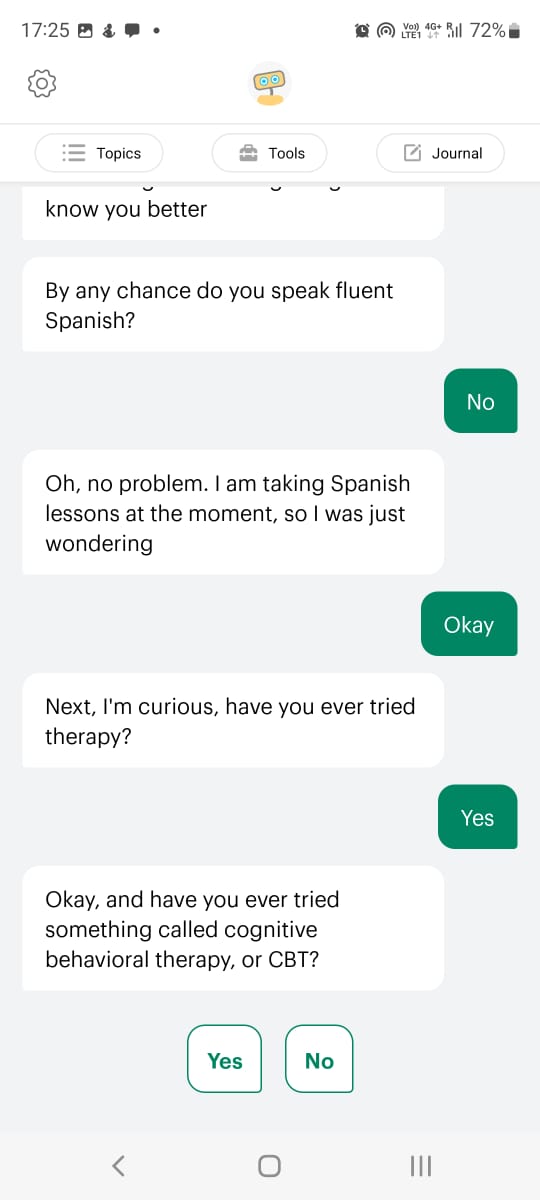 Downloads: 500K +
Rating: 4.8 (11K reviews)
Pros:
It is a good companion for CBT, processing emotions, and a good reminder to complete daily tasks.
The chatbot is always available to help people in times of stress.
Since the chat acts as good nudges, it is very useful for those who need re-assurances and already have some motivation but lacks the final push to make better lifestyle and well-being-related decisions.
Offers an SOS service.
Cons:
The AI chatbot has its limitations- it can give incorrect responses at times and can get stuck in loops.
The AI-generated chat can only provide a nudge toward better practices. It cannot help with the complexity of emotions and problems a person might be dealing with, and therefore it's not an efficient replacement for therapy.
Woebot doesn't let you type in your responses in a chat.
Use case: identify emotions, coping mechanisms, positivity, learn about emotions, manage emotions, learn mindfulness, learn meditation, work on self-care and self-esteem, reduce anxiety
Cost: Free
10. Symptom and Mood Tracker by Bearable
Description: Symptom and Mood Tracker by Bearable helps you keep track of your mood, symptoms, daily activities and other factors such as sleep, medication, exercise, and food via a diary record. It also syncs the daily steps taken, heart rate, blood pressure, weight and other physical indicators of an individual, draws correlations from them, and gives insights into overall well-being.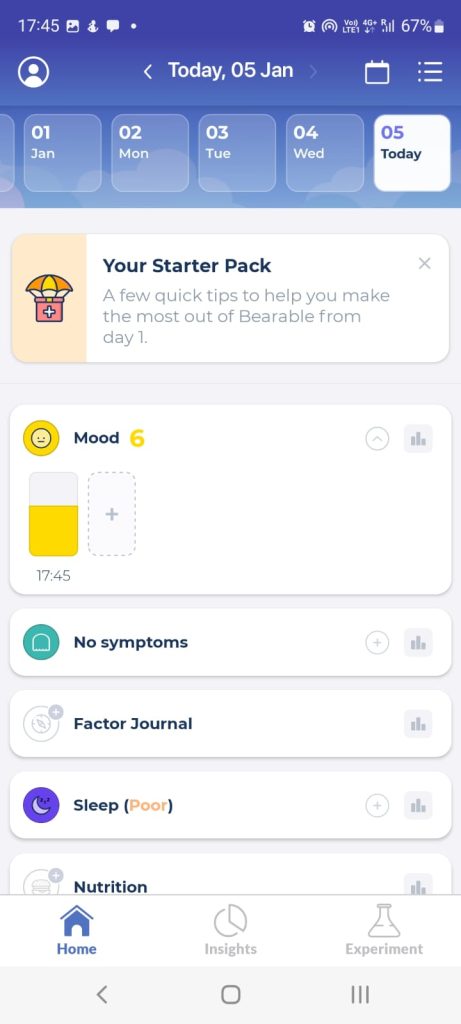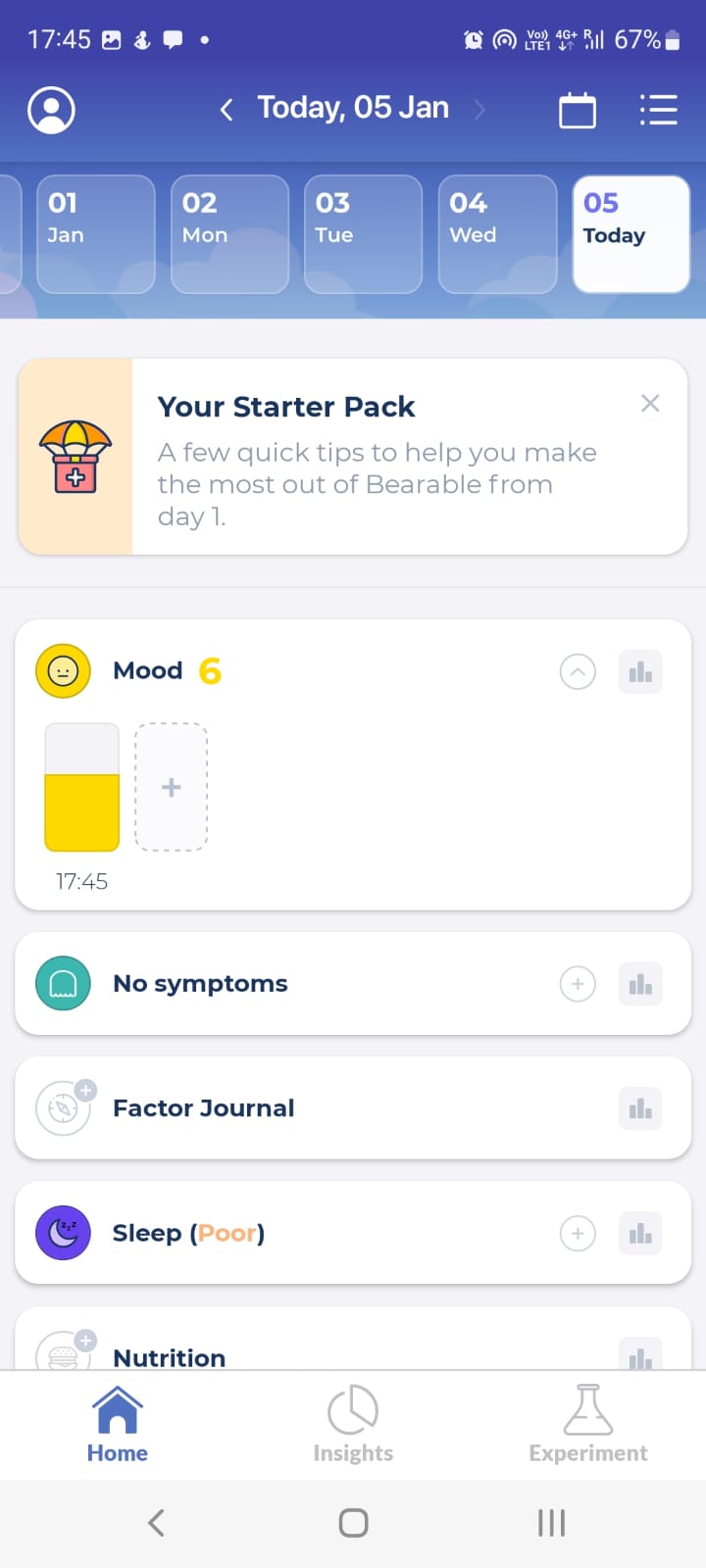 Downloads: 100K +
Rating: 4.6 (4K reviews)
Pros:
Records everything from mood, symptoms, focus, sleep, and health in one place where you can regularly update and create a chart.
Bearable connects with bio-sensing devices like Google Fit and other compatible wearables and integrates that health data like sleep, heart rate, steps, etc., into your health monitoring.
User interface is easy to navigate and uncluttered. By offering a limited category of services, it keeps the app's focus area intact.
Has additional activities like lifestyle hacks and experiments to see what changes in your habits are affecting what parts of your life.
Cons:
Some features, such as advanced insights, correlations, and suggestions for overall health improvement, are limited to the paid version of the app.
Since it's a habit and mood tracker, the user has to ensure some level of commitment and make using the app itself a habit, which is a problem many people struggle with, making the app problematic for its core users.
Use case: track your mood, health, daily steps, sleep, heart rate in one place, create custom health measurements, create routines, identify key correlations in lifestyle and health symptoms, get mood and symptom insights, get sleep and energy insights, undertake health experiments like digital bedtime detox, deep sleep breathing, etc., journal your mood and life events, add reminders.
Cost: Free trial of 7 days and then the charges are Rs. 3150 per year.
Bonus: Digital Wellbeing
Android phones come with a digital well-being section that allows you to monitor your phone usage and turn on a focus mode, which disables all apps except for a few you choose. This is excellent for managing negative thought triggers from social media and news, procrastination through gaming and Instagram scrolling, and overall eye and mental fatigue. You can use app timers to lock away apps for a duration, too.
iPhones have a similar Screen Time feature, which monitors your notifications and app usage. You can use these in-built options to improve your work efficiency and reduce related problems like guilt associated with procrastination and distractibility. Seeing these analytics in real time can help you feel the urgency to put away your phone and do more important work. Eventually, feelings like guilt, anxiety, low self-esteem, and low self-worth tend to reduce because you cut off the triggers for those emotions.
Digital well-being apps are excellent for reducing mental health problems caused and related to phone addiction and social media use. Using them correctly can also help you manage and use specific distractions like only music and a game but no social media to manage your work productivity (sometimes you need more stimulation to do boring work because you choose to procrastinate the boring task because it's too boring).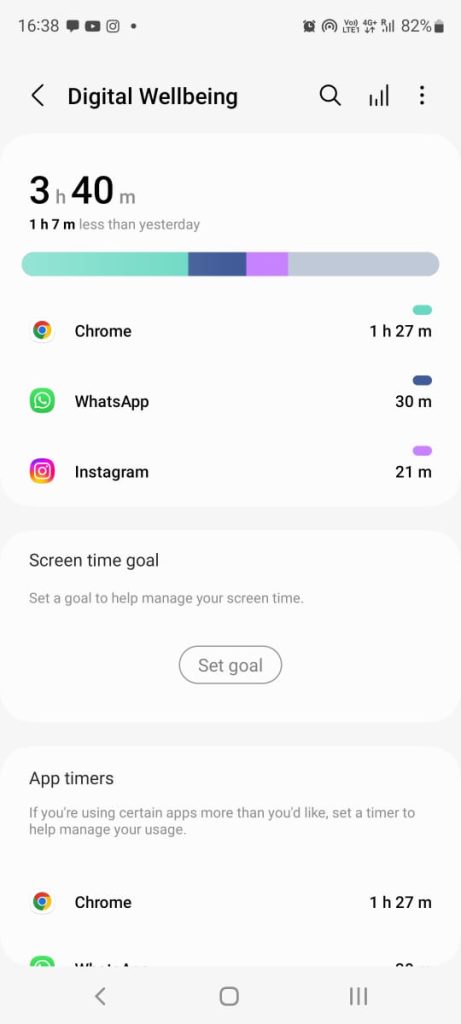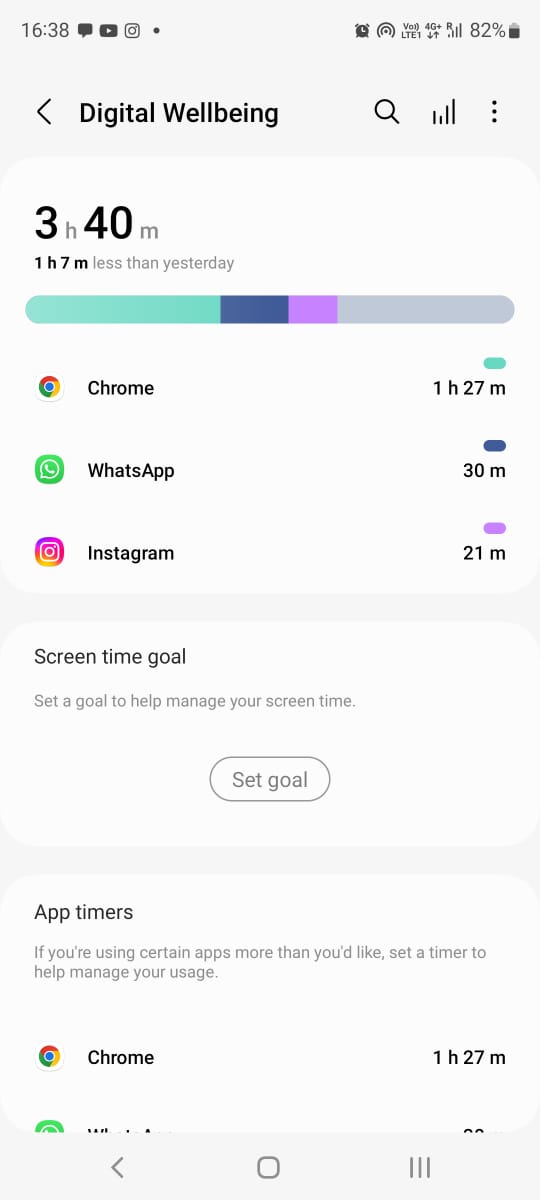 Point of caution
Many advertisements about productivity apps, procrastination-killing apps, diet and health plans, etc., are advertised on Facebook and Instagram. A large amount of apps I reviewed have very misleading adverts, weak scientific foundations, and hidden costs after doing a long survey for free. I personally did not trust many of them, so I've excluded them.
Additional resources
Youtube: Many psychology-themed channels on YouTube offer much-needed explanations and insights into how the mind works. While apps can help you take action, they might not be enough to develop "psycho-education" – the technical understanding of one's mental state and processes. For that Youtube works great. Read more.
Books: Many psychology books offer insight to non-technical readers in ways that aren't expected from a traditional therapy routine. Here are my recommendations that can help you figure out aspects of your mind and brain and allow a truly self-reflective process of understanding your brain. Read more.
Courses and web resources: Along with therapy, it helps to understand your own mind/brain in a technical sense. This allows you to choose a DIY approach to mental health. Here's my recommendation for online courses and high-quality informational resources. Read more.
DIY mental health toolkit: Self-help and self-healing require a solid understanding of what mental health behavior helps in a particular situation. So I prepared a mental health tool kit that you can use to tackle the most common mental health problems and effectively apply specific techniques in ways that help when they are needed. Read more.
We are sorry that this post was not useful for you!
Let us improve this post!
Tell us how we can improve this post?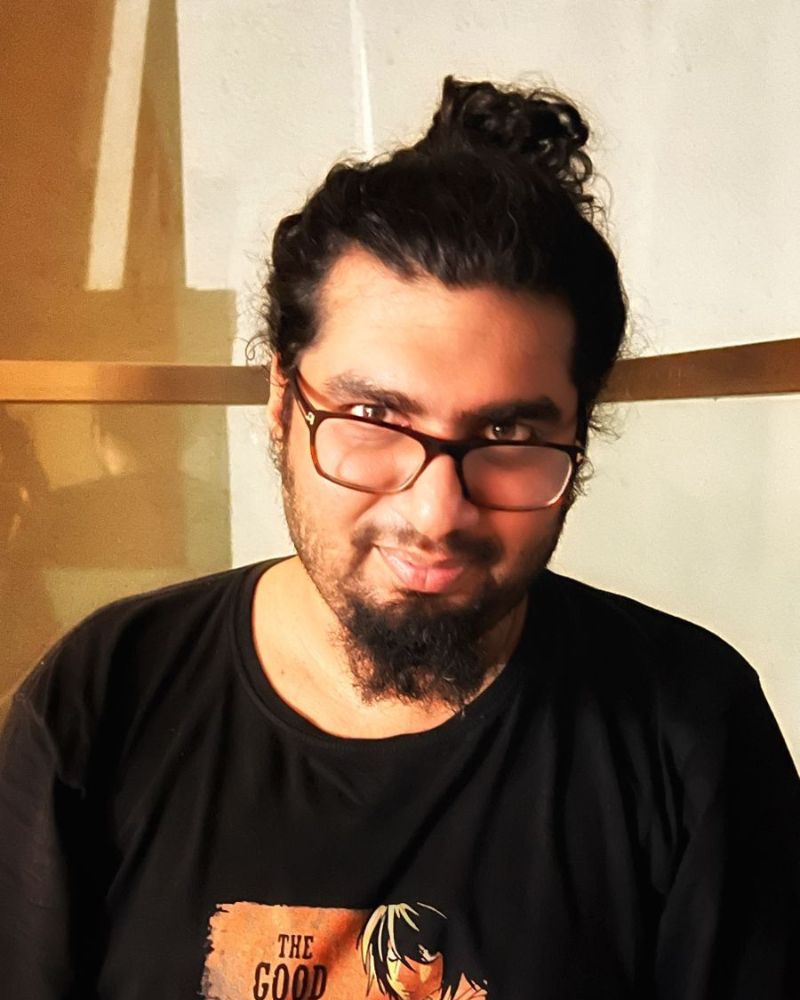 Hey! Thank you for reading; hope you enjoyed the article. I run Cognition Today to paint a holistic picture of psychology. My content here is referenced and featured in NY Times, Forbes, CNET, Entrepreneur, Lifehacker, 10-15 books, academic courses, and research papers.
I'm a full-time psychology blogger, part-time Edtech and cyberpsychology consultant, guitar trainer, and also overtime impostor. I've studied at NIMHANS Bangalore (positive psychology), Savitribai Phule Pune University (clinical psychology), and IIM Ahmedabad (marketing psychology).
I'm based in Pune, India. Love sci-fi, horror media; Love rock, metal, synthwave, and pop music; can't whistle; can play 2 guitars at a time.
Check out these quick visual stories