Psychologists, designers, educationalists, and many professors around the world work on improving the quality of education because a lot depends on the education of a whole generation. The resources a teacher uses while teaching plays a role in how students learn. Motivation, stimulation, retention, interest, actionable learning, etc., can vary per resource.
I'll be covering how the teachers of tomorrow can leverage digital interactions and technology to facilitate learning. Traditionally speaking, we are talking about teaching aids and instructional materials.
First, why do Teaching aids and Instructional materials help in education? The short answer is – fun, engagement, curiosity, and sensory interactions improve learning, memory, and understanding. The long answer is here.
Teaching aids and Instructional materials
From a 21st-century, post-pandemic, and post-chatGPT point of view, teaching aids and instructional materials can be considered as "learning and teaching resources" for a hybrid online-offline educational setting powered by humans and technology. They are now mostly screens and computers connected via the internet (teaching aids) and educational media (instructional materials). Technological changes have merged the concepts of teaching aids & instructional materials in ways that old definitions did not foresee. Together, the entire ecosystem of tools that deliver and process information are called Internet and Communication Technologies (ICTs). But let's look at this from a simple, traditional point of view first.
Teaching aids (TAs): Teaching aids are objects (such as a book, picture, or map) or devices (such as a whiteboard or computer) used by a teacher to enhance or enliven classroom instruction (Merriam-Webster). They could be audiovisual teaching aids such as videos and guest lectures or tactile like 3D models.
Instructional materials (IMs): Instructional materials are defined as resources that organize and support instruction, such as textbooks, tasks, and supplementary resources (adapted from Remillard & Heck, 2014). It refers to the human and non-human materials and facilities that can be used to ease, encourage, improve and promote teaching and learning activities. They are whatever materials used in the process of instruction (IGI global). The great Soviet encyclopedia defines IMs as educational resources used to improve students' knowledge, abilities, and skills, to monitor their assimilation of information, and to contribute to their overall development and upbringing.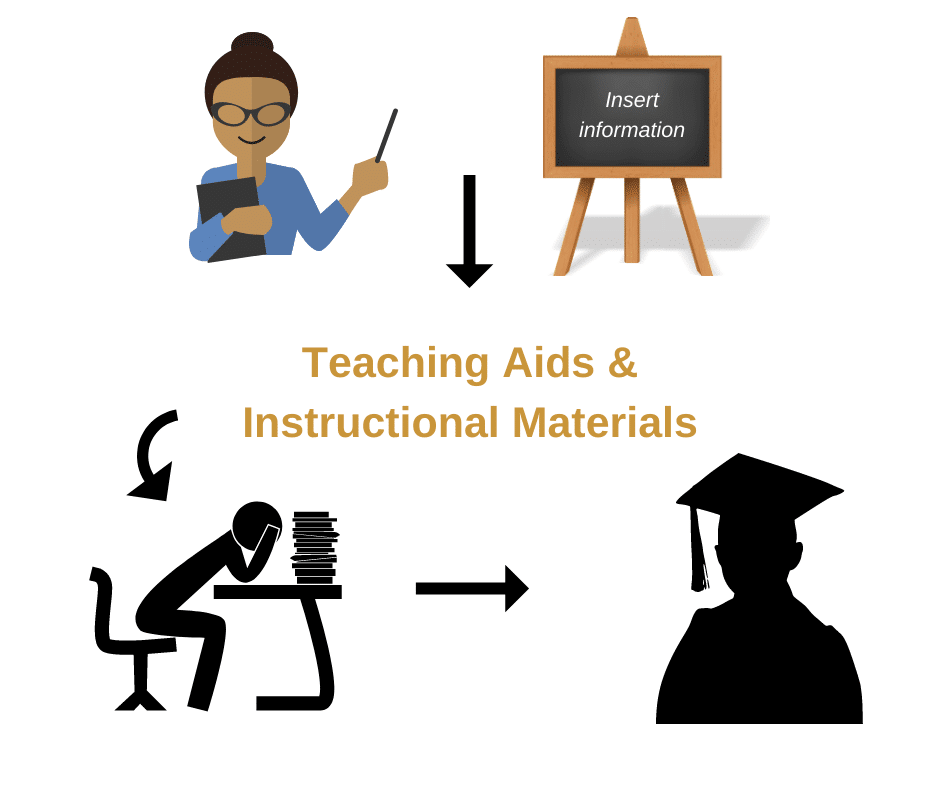 What are Teaching Aids?
Broadly speaking, any device, method, or system that helps to teach can be called a teaching aid. These devices can be traditional items such as blackboards and flannel boards, as well as electronic devices such as tablets and projectors. Scientific tools such as telescopes and microscopes could also be used as teaching aids in a given context. Two overarching common factors between most teaching aids are: mediums that promote sensory engagement and stimulation.
Examples based on classification systems:
Classification 1
Non-electronic – Chalkboards, flip boards, slates, print photos & media, telescopes
Electronic/digital – Computers, mobiles, clicker devices, internet-powered apps, PowerPoint slideshows, Augmented reality/Virtual reality goggles, AV-room equipment, music/art-based content delivery
Classification 2
Auditory: Radios, tape recorders, CD players (now redundant)
Visual: Slides, projectors, digital screens (now mostly digital screens only)
Audiovisual: Youtube, Vines (yes, they are helpful), Ted Talks, Live stream apps, documentary repositories, Instagram guides/stories, reels, and TikTok
Audiovisual and tactile: 3D models, field visits, toys, lab apparatus, plant/animal/rock specimens
Collaborative/Social: Online classrooms, forums, Facebook pages, Quora spaces, subreddits, special interest group discussions, virtual meetups, study and support groups, websites that allow collaboration, score/progress tracking websites, feedback websites, artificial intelligence as a collaboration tool
Internet and Communication Technology tools: Software infrastructure that provides analytics, organization of material, note-taking apps, productivity apps, repository of lessons in an app, content management systems, chatGPT, and other artificial intelligence systems
What are Instructional Materials?
Instructional materials are those items that assist and describe the information aspect of teaching. These could take the form of textbooks, worksheets, 3D models, charts, infographics, etc.
Instructional materials also include assessment and testing methods. Basically, any material, any information containing resources, that the teacher uses while instructing. Now testing materials don't necessarily contain information, but they help the retention and learning of information; thus, they are instructional materials. Sometimes, they are a means to an end, the end being the assimilation of information.
Classification
Traditional resources: lectures, talks, writings, project rubrics, guidelines, textbook primers, reference books, extra-readings, teacher and student-created summaries, workbooks, supplementary material such as flashcards and charts
Digital media: Explainer videos, photos, presentations, infographics, talking-head videos, audio summaries, podcasts
Open resources: Expert blogs, open-source journals, public databases, open courseware, forum discussions, memes
Testing resources: Standardized tests, classroom assignments, online submissions, quizzes, essays, collaborative projects
Artificial intelligence (large language models): Artificial intelligence, like chatGPT, a large language model, is trained on vast amounts of collective human knowledge. It has a conversational, troubleshooting, and explanatory approach to information delivery. Technically, students can use AI systems as a teacher to supplement human teachers.
Note: When teachers say they will use a "visual aid," like a video describing a concept, the visual aid is instructional material, not a teaching aid. At least, based on historical approaches.
Key differences between Teaching aids and Instructional materials
As you'll see in this article, TAs and IMs work together to reach teaching goals. However, the traditional separation of TAs and IMs is superficial and needs revision. It breaks down based on who uses a specific tool and how it is used. Dictionaries don't define Instructional materials clearly. The term "instructional material" is largely restricted to the literature on specific pedagogies. In fact, the term 'Instructional materials' is used in the context of reaching course-based learning goals. IMs are specifically designed to align with learning objectives and outcomes. Whereas, teaching aids are not always designed to meet course-based goals. You might have guessed – the same object can be a TA or an IM.
The main difference between TA and IMs is: A TA is used as a delivery method that can be applied to any context. An IM is subject-specific and contains information within itself.
Example 1: A teacher is using a book in the class; each student has a copy.
If a book is used as a course-prescribed resource, it is an instructional material. If the book is a student engagement activity (reading and discussing a story to build vocabulary) and isn't a part of the syllabus, it would function as a teaching aid.
Example 2: You are studying algae under a microscope.
A microscope would be an instructional material if a course-based learning goal is 'using a microscope to study microscopic entities.' However, a microscope would be a teaching aid for a theory class on algae. A teacher could use one to show students what it looks like in order to engage the class in learning about algae.
Traditionally speaking, teaching aids have been thought of as devices that can be used – white and blackboards, computers, calculators, projectors, slideshows, tape recordings, television, etc. Teaching aids are tools that help the delivery of information. A TA isn't information, or to put it in a different way, information is not directly embedded in a TA. But IMs often have information embedded in them. Resource books, worksheets, graphs, etc., are all IMs because of this embedding. However, tools such as microscopes are IMs if students are learning what microscopes are.
Sometimes, graphical media can be used as both – infographics could be a teaching aid if they help but not core teaching resources, or they can be embedded within a book or used as a way to summarize a larger concept directly. Digital media is often considered an Instructional material because the information is embedded in it, and it needs planning for educational use. This planning is eventually integrated into the coursework as a learning activity.
An incredible amount of learning takes place online. That's why teachers have redesigned & repurposed their content for online delivery.
Examples of effective learning resources according to subject matter delivered via traditional Teaching Aids or Internet Communication Technologies
| Teaching content | Learning resources (TA + IM embedded together) |
| --- | --- |
| Anatomy | Video animations, physical models |
| Algebra | Graphs for common functions |
| Geometry | Visual transformations of shapes with properties and common formulae, short visual aids like Youtube Shorts |
| Literature | Interviews, commentary, book reviews, open-ended discussions, re-interpretation |
| Computer Science | Open source projects, collaborative coding, case studies of tech stacks, innovative techniques, chatGPT for code |
| Health Sciences | Case studies, evolution of theories across time, cutting-edge methods/solutions and how they are delivered, assisting tools |
| Conceptual/Theoretical learning | Tests, reference material, quizzes, conceptual differentiation via video, charts, whiteboards, infographics, chatGPT |
| Nuances, recent developments | Tests, quizzes, fact sheets, prioritizing details via attempts at summarizing (presentation, articles, research reviews) |
| Social sciences | Maps, Timelines, live analysis of "what ifs" with secondary sources |
| Context | Museums, photos, field trips, case studies, real-world applications |
Examples of learning resources across broad learning domains
Teaching aids, Instructional material, and resources for the digital learning sphere
Many decades ago, TAs and IMs were focused on classroom activities. However, the very definition of the classroom has changed. The world has moved online, which is now a valid alternative method of conducting educational activities. Lectures are presented via ZOOM, Skype, and Microsoft Meets. Most notes are provided digitally. A typical class appears on a screen as a collection of students and teachers. What materials and aids work in such a situation? What are the unique problems of such classes that TA & IMs can solve?
Most students are very familiar with searching for supplemental material on the Internet. Most prominently, students use Wikipedia, chatGPT, professional YouTube channels like In a nutshell, Sci-show, Veritasium, Numberphile, and CGP gray, Reddit (asking questions, finding sources, discussing), and additional independent content offered by courses on Coursera, Udemy, and Khan Academy. Many students even run their blogs to show what they learn and jot down notes. Some make creative videos and run podcasts. These are all self-motivated alternatives to the use of TAs and IMs. These work because millennial and gen Z students prefer autonomy and control in how they learn. They are intrinsically motivated because they have the choice to choose how they learn. Teachers can facilitate this and tap into this autonomy. Teachers can also curate these resources for students based on their preferences and learning goals.
The search for content online taps into our "transactive memory." A novel problem of internet-based learning is the potential to forget what you learn because we remember where to find information better than what the information is (The Google Effect). Many students can now take the time to look for information because they are good at it. Knowing this, many don't feel the value in remembering it. However, remembering information is a necessary condition to make it "intuitive."
There are a number of tools that can be used to present information via audio and video. Online tools like graph generators, graphic designing software, coding platforms, podcast notes, qualitative and quantitative research tools like NVivo and python, etc., are alternative digital TAs. Online content sources (audio & video), discussion threads, e-books, and curated lists are alternatives to Instructional materials. The largest advantage of this is an increase in the diversity of thoughts and informational sources – a clear predictor of quality learning.
Depending on what students have to learn and what teachers are willing to teach, any aspect of browsing the internet can be a potential TA or IM. For example, browsing Amazon for learning about user experience and e-commerce works as a TA and IM. Most pages on the internet are densely connected to other pages and because of intimate familiarity with the internet, it is possible to explore and learn.
Benefits of teaching aids and instructional materials
Conceptual knowledge requires examples, familiarity with the concept's features, contexts, and engagement/experience. These tools directly help.
Some academic subjects like biology or electronics can benefit students in more useful ways if they know what the real-world counterparts to a theory are – circuits, a tissue under a microscope, plants, etc. Such information sticks longer because the memory encoding for these concepts involves strong sensory and experiential components. The brain acquires concepts with multiple representations in a network- right from what the concept looks on paper to how it feels to the senses. 
Using YouTube videos and discussing Ted talks puts dense information in a familiar context. YouTube is a part of human culture, and so are memes; putting information in the context of the internet culture can motivate or change the perception of the so-called 'boring' topics.
IMs and TAs also motivate students at the level of the classroom. This goes hand in hand with confidence (security that one can learn), as having materials is proof of accessing information. Having access can, at the very least, prime students to learn. 
Relying on general information on the internet can overwhelm students due to an inherent lack of direction and potential misinformation. This problem can be solved by designing IMs as an anchor for a topic, using authority references, summarizing content, or priming content like video overviews and infographics.
The cost of implementing TAs and IMs is not trivial. However, improved teaching efficacy and learning efficacy can significantly lower the burden of learning course content. Based on a currently unpublished survey I ran with a client, the primary need of teachers is read-to-consume lessons so teachers don't have to produce new instructional materials for every class. Teachers may save time, students may require lesser effort to achieve learning goals, and primary organizational resources would be better managed (man-hours to pay for, classroom upkeep, scheduling). And even if it does cost the organization a little more, better learning would probably always be worth it. 
Testing and assessment not only help to confirm the learning of content but also helps improve the learning. Research has shown that being tested (the testing effect) can promote memory and conceptual understanding. Attempting worksheet exercises, quizzes, essays, etc., reinforce learning as well as create a hub for further self-motivated learning.
At the superficial level and the definition level, who wouldn't want a lively class and learning experience?
TAs and IMs will work even better if they are aligned with brain-based learning concepts. These concepts are a framework for teaching that aligns with how the brain processes information. If TAs and IMs hijack these processes or even reinforce them, the growth in learning would be dramatic.
Other articles you might find useful:
By fully utilizing these resources, you, as a teacher or a learning facilitator, can make your lessons rich and fun for your students!
Acknowledgments
Special thanks to my Prerna Gaikwad, an English Language Teacher from Pune, India, who helped create this article. I wrote this post after detailed discussions with her on how teachers can strategically improvise their teaching method to optimize the quality of learning and help students, especially the ones who need additional support to gain mastery.
We are sorry that this post was not useful for you!
Let us improve this post!
Tell us how we can improve this post?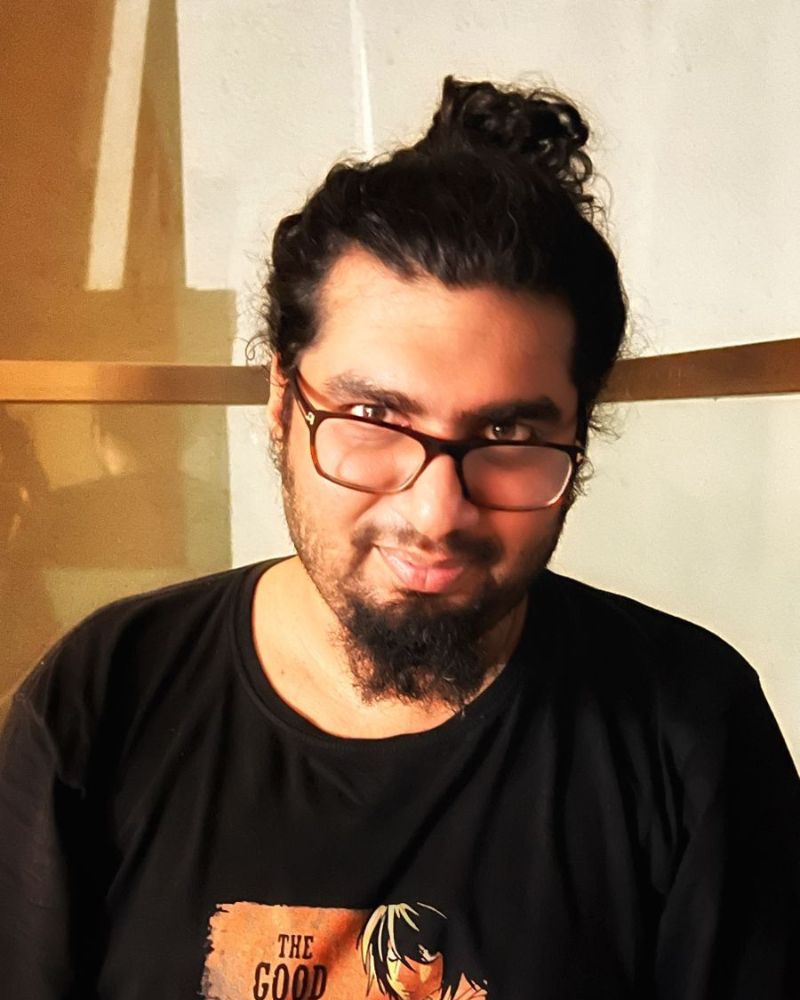 Hey! Thank you for reading; hope you enjoyed the article. I run Cognition Today to paint a holistic picture of psychology. My content here is referenced and featured in NY Times, Forbes, CNET, Entrepreneur, Lifehacker, 10-15 books, academic courses, and research papers.
I'm a full-time psychology blogger, part-time Edtech and cyberpsychology consultant, guitar trainer, and also overtime impostor. I've studied at NIMHANS Bangalore (positive psychology), Savitribai Phule Pune University (clinical psychology), and IIM Ahmedabad (marketing psychology).
I'm based in Pune, India. Love sci-fi, horror media; Love rock, metal, synthwave, and pop music; can't whistle; can play 2 guitars at a time.
Check out these quick visual stories