Positive psychology has given the world a valuable assurance – humans can be in a state of unreal focus called the 'flow'. That moment where you are one with everything you are doing and you are in the zone. That perfect moment.
I kid you not. I've been there a few times and I just got goosebumps writing the previous sentence.
That's the popular understanding of 'Flow'.
Btw, positive psychology has given us valuable insights into the human mind. Here is a useful set of insights on how to be happy.
Positive psychology: Flow and how to experience it
What is flow?
Flow is the mental and physical state where a person is fully immersed, focused, and enjoys the activity he/she is doing. Flow is an optimal state of psychological functioning where we are deeply engaged in a task that is just above our current level of performance. The challenge of engaging in a task just beyond our skill level helps us improve our performance and grow. When in flow, a person is said to be in the 'zone'. A person in flow could be one with the activity but disconnected from everything around. Hyper-focused and blind to unnecessary background information. Fully engaged and immersed in the activity.
Improved well-being and a healthy mix of positive and negative emotions predict the flow state.
When are you in flow?
It's easy to say that the flow state is a subjectively unreal experience. But that's where positive psychology helps us. Owen Shaffer (2013) created a model to describe flow. According to him, there are 7 conditions or pre-requisites to be in the flow state.
Knowing exactly what to do
Knowing and having the skills to do it
Knowing how well you are doing your activity
Knowing where to go (navigation) or knowing your next moves
High perceived challenges
High perceived skills
Distractions and noise are inconsequential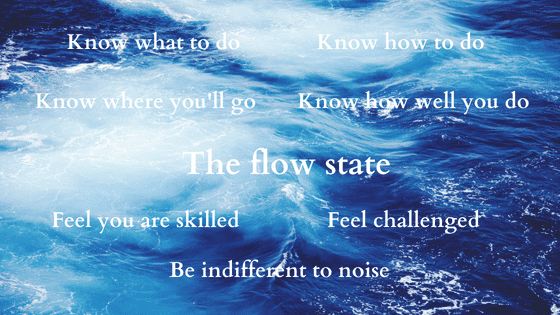 How does the flow state feel?
Jeanne Nakamura and Mihaly Csíkszentmihályi have done extensive work on the flow state. They identified 6 factors that describe the state. Kendra Cherry, a positive psychology writer, added an additional 3.
Focus: Intense focus in the 'now' of doing an activity
Awareness: Action, thoughts, and awareness merges into one experience
Self-reflection: Self-consciousness and reflection is lost or lowered
Control: A person feels like he/she is in control of the situation and activity while being challenged at the skill level
Time: The experience of time while doing the activity is significantly altered
Motivation: The activity is a reward in itself. The person is intrinsically motivated
Feedback: There is a constant exchange of information and changes a person makes based on that information
Confidence: The person feels genuinely capable of succeeding
Needs: The person is deeply engaged in the activity and other needs become insignificant
When it comes to research in this area, the 9 dimensions are conceptualized as "challenge-skill balance, clear goals, unambiguous feedback, action-awareness merging, concentration on the task at hand, sense of control, loss of self-consciousness, transformation of time, and the autotelic experience."
How do you achieve flow?
This answer is not so straightforward. Researchers have found a personality type that is more conducive to experiencing flow. Csíkszentmihályi calls this personality the Autotelic personality. Sounds technical but it really isn't. What does an autotelic personality have? You probably know someone who is autotelic.
Autotelic means having a purpose in and not apart from itself. There is no separate reward for the action. The action itself is rewarding. The purpose of doing something is itself.
He describes autotelic people as:
Their actions are a reward to them
They rarely look for power, comfort, money, fame, entertainment resulting from their actions
They are very intrinsically motivated
They are seen as curious, open to experience, and confident in their skills
They can't be easily manipulated with threats and incentives
They are independent and autonomous
They often exhibit routines in day to day living
These characteristics portray a typical autotelic person. A person who is more likely to experience flow – in sports, while eating, day to day life, music, writing, speaking, coding, etc. Autotelic people tend to have skills that they work on and strive to achieve mastery. They also fare well when they perceive the challenge as higher than the skill they have to overcome it. This takes us back to the characteristics of flow. I should note that flow often occurs when a person is engaged in an activity that requires personal agency, even if it is just thinking.
I really doubt that you'll experience the flow state if you are passing out looking at the ceiling fan and ready to snore after too many beers.
In fact, this is one of those few moments where I will subscribe to the idea of a 'Personality type'. Because, here, it is useful. And, personality is changeable- so you can acquire such a useful personality type.
5 practical ways to increase the chances of you experiencing flow
Recap: Flow is a state of cognitive efficiency, profound task absorption, and enjoyment associated with doing an activity.

1. Gain competence in a skill: Easier said than done. Try to work on a skill in a way that you find pleasurable. Code for fun; write a script for yourself and in the process, learn more. Write music for fun, not to impress others. While writing, keep building your skill. In any activity you do, learn to enjoy your own work.
2. Create feedback loops: One of the characteristics of being in flow is that the person is engaged with the information in an activity. Be it sports or speaking, when you do it, you are feeling yourself do the activity. There is information in this. Specifically, unambiguous feedback – information from the senses, thought process, emotions, etc. Try to be mindful of this information – deliberately acknowledge it. Let that information guide you to make progress in your activity. Once you create a habit of being aware of all the aspects of an activity, challenge yourself to improve. React to, respond to, and control the information. Dance with it.
3. Notice the reward: Focus and identify what makes you happy while doing an activity that is not an external incentive like money, facebook likes, claps, flattery, etc. Once you bring these intrinsic joyous moments in awareness, you'll be in a position to immerse yourself in them. Find what satisfies you.
4. Be open to a variety: A large variety of experiences and skills give you a statistically increased chance of experiencing flow. You'll have more opportunities to experience challenges and develop skills to be in the zone. The additional advantage of variety is that you improve mental flexibility in approaching an activity. The additional experiences from new activities can potentially give new insight into older activities. This mental adaptability will help with being in control.
5. Take on challenges with panache: Once you have a moderate level of skill, take on bigger challenges in a way that you believe you are capable. Do them with a feeling that you've been there before. Don't fake confidence. Build it with the belief that you can always do better but always keep in mind that you may be better than you think you are. A key component of achieving flow is the flow motive which researchers describe as a motivational component directed toward competency.
With these 5 strategies, you can develop a way of life that meets the criteria for being in flow. You will probably resemble the autotelic personality as a by-product. If you are serious about this, do write to me and tell me if you did experience flow!
We are sorry that this post was not useful for you!
Let us improve this post!
Tell us how we can improve this post?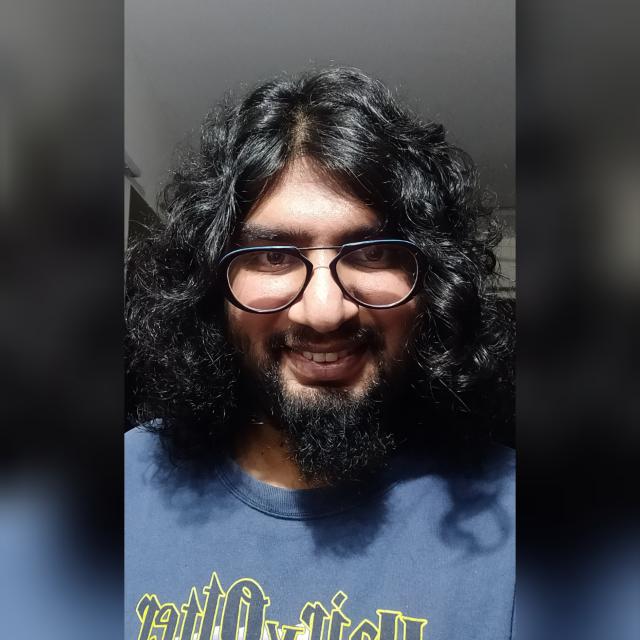 Hey! Thank you for reading; hope you enjoyed the article. I run Cognition Today to paint a holistic picture of psychology. My content here is referenced in Forbes, CNET, Entrepreneur, Lifehacker, a few books, academic courses, and research papers.
I'm an applied psychologist from Pune, India. Love sci-fi, horror media; Love rock, metal, synthwave, and pop music; can't whistle; can play the guitar.